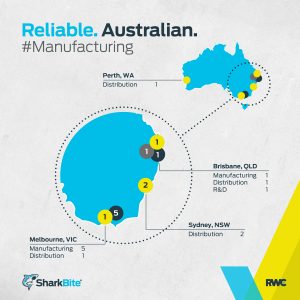 Australian manufacturing, whilst diminished in many industries, remains strong and a core part of RWC. With ever increasing supply chain disruption to Australia, particularly for building related products, RWC provides certainty where others cannot.
RWC are proud of its commitment to Australian manufacturing. Through its various Melbourne based manufacturing locations, including Dandenong, Croydon, Moorabbin, and Braeside, Sharkbite fittings and PEX100 pipes are manufactured and delivered to a wide range of plumbing merchants throughout Australia. Ultimately providing plumbers reliability in supply of an Australian manufactured system.
In addition, RWC also manufacture the Sharkbite system for global export to the USA. Collectively RWC is now manufacturing over 3 million plumbing fittings per month in Australia. RWC continue to invest in state-of-the-art manufacturing equipment that will provide Australian plumbers the confidence, quality, and peace of mind that they deserve.